When I was a kid we had pen pals. I thought it was so neat to get a letter from some kid on the other side of the country, or even in another country (I had a German pen pal named Daniella). The world was still largely unknown to me. I didn't talk to people in Thailand or Australia or even Hoboken on a daily basis. So each one of those connections with a pen pal was like a connection to another world for me that was only experienced as quickly as the postman could deliver my letter.
And then we got email. And chatrooms. The internet. MySpace, Facebook. Now it's a daily occurrence for me to talk to somebody and not even be sure where in the world they are typing from. How small is my world now that someone's location is such an afterthought these days.
So that's why when I got this email today from Mac and his father Paul Hughes (of
Team Xtreme
fame) that I smiled, that I took a moment to remember what it's like to reach out and connect with the world for the first time - how exciting it is to look at a map and know that you've talked to a friend thousands of miles away in a distant and unknown city.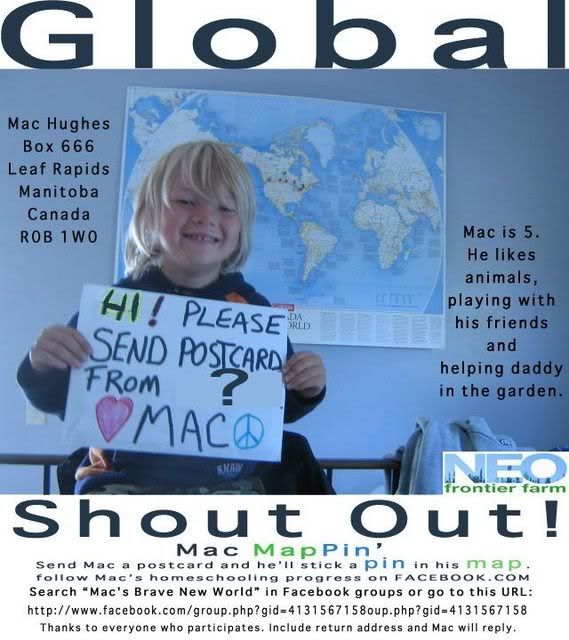 I love the idea of this - the blending of 20th century link building and 21st century technology to spread the word.

It took me all of five minutes to find a postcard, write a quick note on it, and drop it in the mail. And at this moment, my postcard to Mac is traveling in a postal truck with all the speed of my first 2400 bps modem. In a day or two I hope Mac gets it and is able to add a pin to his map and feel a little more connected to his rapidly expanding world. If you have 5 minutes, try it out.

Technorati Tags:
mac hughes
,
paul hughes
,
global shout out
,
link building
,
pen pals
Powered by ScribeFire.
Labels: global shout out, link building, mac hughes, paul hughes, pen pals
Subscribe to $100 in 100