September Earnings
Updated Oct. 1, 2007

Online Shops
CafePress: $0.00

Article Writing
Associated Content: $0.00

Get Paid To Programs
CashCrate: $0.00
TreasureTrooper: $0.00

Internet Marketing
AdSense: $0.00
ClickBank: $0.00
Commission Junction: $0.00
Amazon Associates: $0.00

Total October Earnings: $0.00


Total September Earnings: $688.24

Top Money Maker (Sept): CashCrate - $473.26


Popular Posts
Get Paid To Write
Get Reviewed
Interesting Links
Harper's Favorites
Blogging Reference Sites
Vote Here
Wednesday, September 26, 2007
Lucy the fish and setting up an autoresponder
We got Harper his first fish yesterday. We went and picked out a small 2 gallon tank and got a small green spotted puffer fish. Mom named her Lucy. Harper calls her Doodee or Doocee. He's fascinated for whole minutes a time.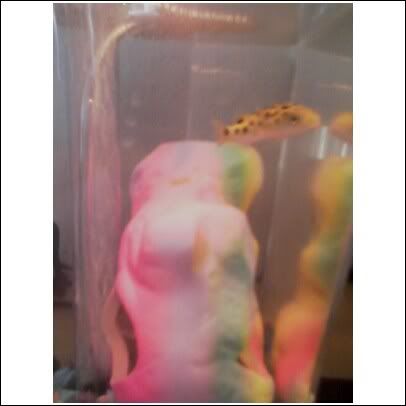 The month is coming to a close - September has been my best month as far as online earning go. I haven't finished everything I wanted to this month, but I've got a few new projects in the works. I've started setting up my first auto-responder. I've been playing around with that over the last few days trying to figure it out. I've also been working with Joomla to figure out how to use that to set up niche sites.
Taking a little time to figure out these things is hopefully going to dramatically increase my earnings and streamline my projects as I go forward.
The autoresponder I'm using is
GetResponse
. So far I'm happy with how it works - though I'm still pretty new to it. We'll see as we go.
Technorati Tags:
autoresponder
,
harper
,
internet marketing
Powered by ScribeFire.
Labels: autoresponder, harper, internet marketing
Subscribe to $100 in 100
posted by HarpersDad @ 5:16 PM


Sunday, September 23, 2007
Sunday reading before kickoff
Mom's out of the house. So Harper and I getting prepared for a big day of football watching. Well, that and making a mess. We're going to see if we can pull out every toy we own and place it somewhere within the living room. Ok - Harper's going to take care of that part himself.
In the meantime - as we wait for kickoff, here's some stuff I've been reading this morning.
Day Job Nuker
- A new to me "Make Money Online" site, came across this one the other day as I surfed some blogs and am interested to see how this guy does in his 3 year plan to nuke the day job.
Of the big 'make money online' sites - Kumiko of
CashQuests
is the new kid on the block. But with over 700 loyal subscribers and readers, she's quickly establishing herself as an authority in this crowded niche. Interesting and smart posts keep me coming back as she always has something interesting to say.
If you want a listing and reviews of the newest and coolest web tools and apps then head to
Mashable
. Chances are that you already do as this is one of the more popular sites/blogs about web 2.0. I always come across something cool every time I check it out.
I've always loved reading
John Cow
- well, at least as long as they've been around. But with a new,cool blog redesign (seems to be happening a lot lately) the cows have stepped out from the shadow of their evil mentor and have really started to make a name for themselves and their milk.
Technorati Tags:
links
Powered by ScribeFire.
Labels: links
Subscribe to $100 in 100
posted by HarpersDad @ 9:32 AM


Thursday, September 20, 2007
Some days I find myself overwhelmed by information so much that I do nothing
I love to plan things. I like to make spreadsheets, outlines, mindmaps. I love research. I love knowing what I have to do to get something done. I like learning new things.
This is my biggest problem.
At some point, you have to take action. It's great to learn new stuff - but if you don't actually set up an auto-responder after researching it, what good is that?
Working on your own - or for yourself can be difficult. You have to find ways to motivate yourself and keep moving forward.
Some days I find myself paralyzed by all of the information that I have taken in. I've made plans for great things - only to never start them because they seem so big.
I've realized that sometimes you can have too much knowledge. At least for me, that's the case. Sometimes it paralyzes me. The things I know best, I learned by doing. I set up my first blog 2 years ago just by jumping in and doing it. I built my first niche site by just getting an idea and setting it up. I built a CafePress shop by just diving in. I came across CafePress - and had my first shop set up about 3 hours later, just because it seemed like a cool idea. I didn't spend a lot of time researching it - just did it.
That also means I've got a lot of projects that didn't pan out. Some flops, some successes.
I've been trying to find a balance between research and learning - and doing.
I know that I work best when I create a list of things to do. For some reason - lists drive me crazy. I can't stand a half-finished list. They motivate me to complete all the tasks on the list.
I've begun writing a list every night before bed. It's my to-do list for the next day. I put 10 things on the list that I would like to get accomplished. They can be writing an article for a certain niche to finding a new niche to begin. It might include 30 minutes of reading material in a forum on list building - or submitting some sites to 10 new directories.
By making a list everyday - I've broken up my large, long term goals into small, manageable daily tasks that will get me there. When I finish a daily list - I feel like I really accomplished something that day. If I do that everyday - it won't take me long to actually realize the grand goals I've set for myself.
Not only that - but by making the list, it lets me manage my time better, so Harper and I can go to the park because I know exactly how much time I'm going to need later to move forward that day.
Have you found yourself unsure of the next step? Make a to do list. Don't be unrealistic about the things you put on it. I try to put things on the list that will take about 30 minutes to accomplish. Obviously some will be bigger projects, and some will be quicker - but I use that as a general guide. Try it out. Do it for a week - you'll be amazed at how much you'll get done.
Technorati Tags:
to do list
,
making money online
Powered by ScribeFire.
Labels: making money online, to do list
Subscribe to $100 in 100
posted by HarpersDad @ 7:09 PM


Tuesday, September 18, 2007
An easy way to park extra domains and have them earn money
I'd like to thank Amy of
My Debt Free Goal
for finding this program. I had a few domains that I had purchased to build some affiliate sites on. But, since it takes a day to build a site, and then a few days writing articles and trying to drive traffic to the site - I always have some domains that are unused and waiting in line.
What I've always done in the past is to place a page holder, under construction, maybe a google ad on the page until I could get to it. But now, with
WhyPark
, it's a lot easier to monetize those pages that you haven't gotten to yet. And you can do it in a way that the page holder is going to be content rich.
WhyPark
lets you host up to 100 domains.
WhyPark
then lets you decide which keywords you want to use, and it fills the page with articles related to your keywords. The articles are continuously updated, so that when the search engines come around, they'll always find new content. You can use your AdSense account to place ads on the site - and you don't have to split any revenue - you keep 100 percent of the revenue.
It literally took me 10 minutes to put up my first site today. I was able to control and choose the template, insert my adsense code, and place a few affiliate links on the page. There is a one time fee of $99.95 to open an account. But for that hundred bucks you can host 100 sites - easy math - buck a site.
There are no recurring fees and no monthly fees. Here's an example WhyPark site:
PC viruses
.
So what I'll be doing with
WhyPark
is building sites for my domains that are empty still. Then I'll be able to focus on one site at a time while those domains hopefully start earning a little for me. The nice thing is that I'll also be able to see which domains might perform well by using
WhyPark
as a sort of test before investing too much time in building a complete site.
whypark
,
making money online
,
domain parking
Powered by ScribeFire.
Labels: domain parking, making money online, whypark
Subscribe to $100 in 100
posted by HarpersDad @ 2:56 PM


Sunday, September 16, 2007
O.J. and the Buffet at Palace Station (Oh yeah, and BlogRush)
We took Harper to the fabulously sad Palace Station today to eat at the buffet. Didn't see O.J. running around as I guess he was actually arrested for his shenanigans earlier this week. I think it's hilarious that all of this took place at the Palace Station. I mean, it's not like O.J. is at the Wynn or Caesars, no, he's at Palace Station.
Harper's going to be a good buffet eater. At one point he had a piece of turkey, two chunks of banana, and a piece of cantaloupe all stuffed in his mouth, at the same time. He eats like our 8 year old Labrador - as though at any moment, somebody might rush in and take his bowl away.
There's a lot of talk about
BlogRush
today. I haven't installed it - as I'm interested in what others are going to say about it. Plus - I was reading a post today that was talking about how it might violate the Adsense TOS, which would cause your Adsense account to get suspended. I don't make much from Adsense, but who knows, maybe I'll figure it out and make some in the future - and I don't want to lose my account. I'm not saying that's what will happen, but about a month ago I got an email from them giving me a warning because they saw I was using a link exchange. I was trying out linkrefferal.com, where you surf other sites, and then so many are sent to your site everyday. Anyways, until there's some determination if it will violate it - I probably won't be using it.
It's easy for some of the big blogs to use it - as a lot of them are no longer monetized with Adsense. How cool is that, you're making so much money from your blog that it's actually more profitable for you to remove Adsense?
Technorati Tags:
O.J. Simpson
,
BlogRush
,
Adsense
,
Buffets
Powered by ScribeFire.
Labels: adsense, BlogRush, Buffets, O.J. Simpson
Subscribe to $100 in 100
posted by HarpersDad @ 9:17 PM


Wednesday, September 12, 2007
Call me crazy, but the mid to high 80's is still pretty hot
So today I'm watching the news and the lead story is about how it finally was under 90 degrees, in parts of Vegas. There were still areas above 90, but a lot of Vegas was hit by this cold weather in the high 80's. I remember growing up - in Chicago and other midwestern cities - that it would hit 80 degrees during the summer and 40 people would die from the heat. Now, I'm living in the desert where people are joyous and celebrating the high 80's.

I miss seasons. I miss the snow a bit. We have 2 seasons. Hot. And not as hot. It always disturbs me a bit to run the air conditioner in December. When I was growing up it was always a treat when we got to run the air conditioner. Now it's a treat when I get to turn it off.

I've been messing around with FaceBook more and more. Some of the applications for it are pretty cool, but can be such time wasters. Oh well. Like the "Where I've Been" app. It's nothing more than a map where you click on the states and countries where you've been and where you've lived, and even where you want to go.



I had to include Antartica because, well, now that it's warming up I guess I'd like to go there. I'm still not really clear - is there actually land underneath the ice? Is a continent really a continent if it's just ice? Can somebody clarify that for me?

Pretty cool applications like this - but I'm not exactly sure what purpose they serve other than to give me something to do besides working on coding a website or writing an article or something useful like that.

Anyways - if you're on facebook - add me as a friend - I need a few more to feel more important. We can waste time together. Here's my profile: http://www.facebook.com/profile.php?id=768898344

While you're at it - you can add me on Twitter if you are using that one too: http://twitter.com/chewingglass Follow me and I'll follow you.




Labels: facebook, twitter, weather
Subscribe to $100 in 100
posted by HarpersDad @ 1:41 AM


Monday, September 10, 2007
Niches Smiches
It's Sunday night (Monday morning) and I'm about halfway through setting up my second niche/affiliate site. I used the same template as the first one, although I've changed the images and stuff to match the new niche. I like this template and it lends itself well to a simple store setup. It has some nice features and effects - and since I'm already pretty familiar with it, the coding is going a lot quicker on this site.

I have run into a stop point as I am awaiting a few affiliate programs to approve my application. So I can't do much more to the site as I'll need those codes to place products in the site. Hopefully those will come through in the next 24 hours so that I can finish up this site.

I've been writing articles like crazy for the first niche site. I've been writing under a pen name for this niche. I plan on using a pen name for each niche - a persona I've created to become the 'expert' in each one. The persona for the first niche is actually a female as I think it will help with my credibility in that niche.

I've also set up a facebook account for that persona and begun to network on facebook through some groups that pertain to that niche. Hopefully that will help drive a little bit of traffic to my sites.

On CashCrate I started the month with 7 or 8 active referrals and about 20 total referrals. Here's where I'm at now:

I finally hit 'silver.' I was just happy when my total first level referrals hit 100. And my second level has really started to go - I've picked up about 30 second level referrals in just the last 3 or 4 days. Then next level is 'gold.' Here's the requirements:

I only need 150 active referrals to hit that level. That's a lot - I'm hoping to hit that level in a week and a half or so. We'll see. Right now I'm finding that for every 2 people I'm signing up, 1 of them will actually become active. To be active all they have to do is complete 1 offer. Not much. But we'll see how long it takes to get there. I'm still only spending about 15 - 30 minutes a day actively working on getting referrals - and I'm getting 10 - 12 a day right now. Not bad.

Anyways - I've got a few different niche's planned out right now. The neat thing is that I really don't know much about any of the new ones that I am trying. The first one I know a bit about, so it's not that hard to create content for it. But these new ones - well, I'm doing a lot of research to educate myself on these topics which is fun, because it's like everyday I get to learn something new. Keeps things interesting.

I've got a total of 10 add on domain spots available in my current hosting plan. I've used three - my goal is to use all 10 by the end of the month. So that'll be 9 niche/affiliate sites this month (I used two for the first niche). That's my goal - we'll see how I do with that.

Labels: internet marketing, making money online, niche
Subscribe to $100 in 100
posted by HarpersDad @ 1:06 AM


Thursday, September 6, 2007
We finally won a blog contest - Ten whole dollars!
Harper wanted me to thank Kyle M. Stephens of KyleMStephens dot Com for the 10 bucks he sent us. Harper's already placed it in his piggy bank.


Don't you just miss sleeveless shirts?

We figure the $10 bucks that we won in Kyle's comment contest will pay for at least 1/8th of his Astronomy 101 book by the time he gets to college.

Astronomy? Did anybody else take astronomy? I think that might have been one of the problems with my schooling. Here I was taking Astronomy, Shakespeare, Post-Modern Lit, Creative Writing Workshops, Anthropology. Anthropology?

All my friends that were business majors have nice cars now. Coincidence?
Subscribe to $100 in 100
posted by HarpersDad @ 2:02 AM


Tuesday, September 4, 2007
'Get Paid To' program updates
As I said in my previous post - my focus for my online income earning has shifted from the 'get paid to' programs to more of an internet marketing focus.
But, I did want to do a quick update on the 'get paid to' programs that I am using. First, I'm going to be dropping Hits4Pay and DealsNCash from the programs I'm using. I finally hit the payout threshold for Hits4Pay. I never did any real intense promotion for Hits4Pay, but I did have about 20 referrals in my downline. With 20 referrals it took me about 2 months to hit the payout level of $25 bucks. And that was with a $10 dollar sign up bonus! Here's a breakdown of what it actually took to hit that $25 bucks.
As you can see - hits4pay turned out to be a two month waste of time. Of course - the actual reading of the ads was nothing at all. I simply logged in, opened up a new tab in the browser and just clicked on a new ad every so often while I was doing something else. I really didn't do anything - but still, I guess some time was spent logging in to the site and clicking.

So - strike those two programs off the list. Hits4Pay DealsNCash

That leaves me with CashCrate and Treasure Trooper left in my 'Get Paid To' program list. I hadn't done much promotion of either besides a banner here and there. But, in the last week I decided to give CashCrate a little push. I've pushed my referrals up to over 60 on my first level, and I've now got 5 on my second level. What I like about CashCrate is that you're paid anywhere from 20 to 30 percent for the first level, and 10 to 20 on the second level. In the last 3 days of August, I made about 35 bucks from the new referrals that I got. I didn't spend much time - I'd say about 30 minutes a day trying to get referrals. I've figured out that it really is where you try to get the referrals. Some sites work like a charm :-)

For this month I figure I'm going to spend about 15 to 30 minutes a day working on referrals, because that program actually seems like it might pay off. Well, I know it will as Amy of My Debt Free Goal pulls in about $1500 a month from her referrals. So we'll see how far I can take this.

But as I've said - the main focus for September is creating a bunch of niche/affiliate sites. I'm going to try to do at least 2 a week - I finished my first one 2 days ago and have been working on getting some traffic to it. Now, I'm about to start research on the second.

Technorati Tags:
get paid to
,
cashcrate
,
making money online
Powered by ScribeFire.
Labels: cashcrate, get paid to, making money online
Subscribe to $100 in 100
posted by HarpersDad @ 3:32 AM


Project updates and goal revisions
I think I've fully recovered from the 30 Day Challenge. During August I was spending close to 12 - 14 hours a day on the computer. Now, I learned a lot, and have started implementing all that I've learned, but I definitely needed a few days off.

During the last few days I've been reviewing my goals for this blog as well as my other projects. I'm coming up on the 100th day of this blog. Looking at it, I don't think I'm going to pull out a miracle finish and hit $100 dollars a day on the 100th day - awww. But that's ok, because I really do think it's possible and that I'll be hitting that goal in a couple of months.

When I started this project - a lot of the focus was on the 'get paid to' programs like CashCrate and Treasure Trooper. My focus has definitely shifted as I've learned more and more about making money online and internet marketing. Now, a lot of my focus is going to be about internet marketing and finding niche markets to try to work on and make money in.

Over the last week I've been concentrating on creating content for a few domains that I purchased. I spent a few hours yesterday submitting to some website directories - wow, how draining is that. Even with some nice software that helps with the submissions it's still tedious. But I figure I can do a little bit of that here and there to help build a bunch of links for my sites.

I also spent about 2 hours writing some articles for that market. I finished up with 5 pretty good articles - I think - and I plan on doing about 5 more tomorrow. I've been submitting those to a few article directories.

What I really like about this process is that I can do one thing till I get tired of it, then move onto another aspect of the project - there's always something to do.

That's also one of the problems with internet marketing. It's easy to become overwhelmed with all of the things you need to do. Writing articles, submitting to directories, building links by commenting on other sites in the niche, coding websites, writing content. I put together a few spreadsheets to help me organize my project and to help me stay on task. It's so easy to be lazy! And that's the one thing that will stop you from being successful in this field. I figure by taking it one step at a time I'll make it there sooner rather than later.

$100 dollars a day translates to roughly 3 grand a month. I'm going to change the sidebar to reflect a monthly goal rather than keep a running tally. That way I can review my progress monthly and I think it'll be easier to see exactly what I need to do to improve each month.

Labels: 100 in 100, goals
Subscribe to $100 in 100
posted by HarpersDad @ 2:13 AM


Sunday, September 2, 2007
My first affiliate marketing site
I've just spent the last 12 hours working on my first real affiliate site for the niche I've been working on. I'm pretty excited about getting it completed - though now the real work is about to start as I'll have to figure out how to get some traffic there.

It is linked to the rest of the network that I've been building in this niche - but I'm also hoping to do some article marketing specifically for this site. My plan is to write about 10 good articles focusing on different keyphrases that I'm targeting in the niche - and then submit them to a few directories including ezine and associated content.

I did manage to find a nice template to use for the site from andreasviklund.com. I was really pleased with it as it was super easy to use and I think it looks a lot better than most free templates. I should know because I spent about an hour looking at various free templates before I finally came across this guy.

Well - the little man Harper is about to wake up I'm sure - so it's time to fix some breakfast. His new thing is dancing - it's pretty hilarious watching him sway back and forth and move his arms about above his head. He gets a huge grin too whenever he dances. Maybe I'll show him my new niche site and see if it makes him dance. Ok, probably not.

Labels: internet marketing, making money online, niche
Subscribe to $100 in 100
posted by HarpersDad @ 6:53 AM


About Me

Name: HarpersDad
Home: Las Vegas, NV
About Me: I am a new dad (well, Harper is a year old) and I'm already worried about his college education. Mostly because I'm still paying mine off. My plan is simple - create multiple streams of online income so that the overall amount of all of them comes out to 100 dollars a day. So here it is: each step along the way about how to make $100 a day in 100 days...
View blog top tags
Previous Posts
Archives
Recent Readers