September Earnings
Updated Oct. 1, 2007

Online Shops
CafePress: $0.00

Article Writing
Associated Content: $0.00

Get Paid To Programs
CashCrate: $0.00
TreasureTrooper: $0.00

Internet Marketing
AdSense: $0.00
ClickBank: $0.00
Commission Junction: $0.00
Amazon Associates: $0.00

Total October Earnings: $0.00


Total September Earnings: $688.24

Top Money Maker (Sept): CashCrate - $473.26


Popular Posts
Get Paid To Write
Get Reviewed
Interesting Links
Harper's Favorites
Blogging Reference Sites
Vote Here
Saturday, June 30, 2007
Day 16 - Project 100
Now that I've been at this for two weeks I actually feel like I've created a little something - got the ball rolling at least, now I'm just waiting for it to really gain some momentum.

I'm really excited about Associated Content. I just submitted that first article, but I'm hoping to start producing a lot of articles for them. One of the nice little side-benefits from this project has been my feeling more like a writer again. I haven't done any serious writing in a few years - and I have a graduate degree in writing - but it's starting to become a habit again and I'm enjoying it.

Anyways - today I wrote that article, wrote a few posts, researched and started a couple of new programs, submitted the site to some search engines, and spent a lot of time researching and brainstorming traffic ideas.

In my reading today I realized that I can't use any traffic exchanges if I'm going to use Google AdSense. So I'm going to have to be creative. I have noticed a lot of reciprocal traffic from sites I'm visiting throughout the day. So my thoughts right now on the traffic situation are this: I'm going to have to do a lot of manual surfing, and I think that being active in different forums is super important.

As for tomorrow and what I want to accomplish - I've started to get a daily routine down.
- Write Posts
- Research different sites (Try to add or review 2 sites a day)
- Promote blog and sites (forums and online advertising)
- Produce articles for Paid To Write Sites

Right now, two weeks into this project I see Associated Content and GDI being the real cornerstones that are going to help me reach my goal. Of course, that may change - but for now, that's where a lot of my energy is going.

I'll update about my articles for Associated Content as soon as I find out. If you want to help me out or just start something of your own - click on the links and check some of these programs out. I'd appreciate it.

Labels: adsense, associated content, day log, GDI, pay to write
Subscribe to $100 in 100
posted by HarpersDad @ 2:37 AM


Friday, June 29, 2007
Paid to Write: Associated Content
Ok, so I just finished my first submission to Associated Content. This is the first 'paid to write' site I'm trying. There are 3 or 4 at the top of the list that seem to get the most attention, but it seems that Associated Content is generally talked about as being the best.

Basically what you have to do, is write an article, submit it, they tell you how much they'll give you for it, you say yes or no, and if you say yes, they publish it. The fee is generally from $3 - $20. Then you can also make more based on how many page views the article receives.

Seems like it's worth a shot. Most of the people I've seen talking about this though - always say, "yeah, I wrote an article in ten minutes..." and I'm thinking what? It just took me an hour - but maybe that's because it's my first article and maybe it'll get quicker, who knows. But I also think the effort put into this one can pay off more in the long run. We'll see.




Well, if nothing else, Associated Content makes you feel like you're accomplishing something. Now we'll just see if it pays off.

There are a bunch of people making money on this site - you have to start somewhere with your first article. Check back and I'll update as I go.

Labels: associated content, making money online, pay to write
Subscribe to $100 in 100
posted by HarpersDad @ 11:34 PM


More 'pay to read' and the search for traffic
Ok. I'm discovering how hard it is to work during the day with a toddler who is all over the place. I'm usually doing one of the following while he's up - replacing the dvd collection back on the shelf, wiping a nose, or wrestling with Harper on the ground. I guess that's why I've been staying up later and later, I actually have some time to accomplish something. During the day I think I'm allowed no more than 5 minutes in one spot, so actually reading straight through a page online or, well, forget about actually posting. And I only have 1 kid! Hah!

So the first thing I did as soon as I had some time was to check out Donkey Mails. They are similar to both Hits4Pay and DealsNCash in that you get a little cash for each ad read, but they pay down 5 referral levels.

Again, I think that the way to really make some money doing this is to sign up for all of these programs so that you multiply these streams of income.





I'll keep regular updates on this to let you know how it goes.

Another thing I wanted to start working on was getting more traffic to the site. So the first thing I did was submit the site to some search engines, I used addme.com, and next I'm going to start looking into different traffic exchange sites to see how they work.

The first one I'm trying out is Free Virals. It's an interesting concept - basically, you sign up and get a referral code. From there you promote your code. When somebody else goes to the site, they have to visit 7 site for about 10 - 15 seconds each to get a special code from each site - kind of like a scavenger hunt, and then they can add their site to the mix.

I'm curious to see how this works - I'll keep you updated and if you want some free traffic to your site - click here.







Click Here for your Free Traffic!
Labels: donkey mails, free viral, making money online, pay to read
Subscribe to $100 in 100
posted by HarpersDad @ 8:26 PM


Day 15 - Project 100
Now that I've centrally located this project with this website, I'm going to make a daily post in which I keep a log of my daily projects, and what I plan on doing next. That way, if I succeed, there will be a step by step example of how I got there.

For the last few days I've been working on this site and planning its future.

On the agenda for tomorrow I plan to continue with at least 2 more posts on what's already in place, start search engine submissions for the new blog, and if I have enough time I'd like to submit some content to Associated Content.

I'm really starting to get excited about this.

Labels: associated content, day log, making money online
Subscribe to $100 in 100
posted by HarpersDad @ 3:38 AM


Thursday, June 28, 2007
GDI - Global Domains International
The first time I saw GDI I didn't think too much about it. Then, as I researched it a little more I saw something with a lot of potential. So when I began to attempt this project, I wanted GDI to play a key role in getting me going.

GDI is the company that is in charge of the .ws (website) internet suffix. You purchase a website domain name (ending in .ws) and website hosting from them for $10 a month. Simple so far. If you want to make money you refer other people to GDI. For everybody that you sign up you earn $1 a month. They pay 5 affiliate levels! Here's there example:

You refer 5 people to our product/program. That pays you $5 per month. No big deal? Hang on, you'll see the power of this. Each of those 5 people then refer 5 of their own, so you're now getting paid an additional $25 per month on your "second level". Each of those 25 can refer as many as they want, but for consistency we'll say that they too refer 5 each. That's $125 in monthly commissions on your 3rd level. If the trend continues, you'll have $625 in monthly commissions on your 4th level, and $3,125 in monthly commissions on your 5th level.

That's a total of over $3,900 in monthly commissions for referring 5 people, and then teaching those people how to do the same and assisting them in growing their own organizations. Keep in mind that nobody is limited in how many people they can refer. Some of our affiliates personally refer hundreds of other affiliates. Just a couple of these "go-getters" in your organization can really blow your income off the charts.


As you can see - there's a ton of potential in this program. I plan on updating my results as we go so you can see just how it works. One of the great things about GDI is that you get all of the material you need to promote it, as well as a Sponsor who is interested in you succeeding just as much as you are.




Note: They offer a seven day trial where you can test the software. I signed up for the 7 day free trial figuring I could cancel if I didn't like it. Well, after 7 days of giving it a whirl I had signed up 5 people on my first level, who in turn had already signed up 3 on my second level - in one week! So I decided to keep at it and see what happens.

Here's the domain I bought: http://www.cademarketing.ws. Harper's middle name is Cade. Right now if you go there it just redirects to the GDI video - this is one of the great tools that GDI provides you with to start marketing your network. You don't even have to set up a website. Check it out if you want.

Labels: GDI, making money online
Subscribe to $100 in 100
posted by HarpersDad @ 11:36 PM


CafePress: Turn creativity into clothing and cash!
CafePress is one of the reasons I started this quest. About a year ago I started looking into different ways to make money online. I came across CafePress and was instantly intrigued.

CafePress allows you to open up an online store. In this store you can sell clothing - ranging from hats to boxers to t-shirts. The clothing in the store contains designs that you make. You upload the designs, place them on the shirts, and off you go - you're now a t-shirt maker. There's a base price for each article of clothing and you get to decide how much to mark it up. For anything that sells, you make the full mark up. So if something costs $15, and you decide to sell it for $20, then you make $5 for every piece that sells.

My store has been open for a little over a year. Right now my average monthy check from them is about $100. My shop sells about 20 - 25 shirts a month and I make 5 or 6 dollars a shirt. So if you break it down by day - I'm making 3 or 4 dollars a day on CafePress without doing anything now, and that is still slowly increasing.

I put a lot of work into the shop when I first opened it, but I would say I spend about an hour a month right now updating and maintaining it. That's one of the reasons I started this quest for multiple income streams online. I figured I am making a hundred bucks a month off of a little bit of work that I did initially. What else could I do online that would increase my income stream?

One of the keys to success at CafePress is to find your niche. Most shops have some theme on the clothing they sell - anything from dog lovers to funny movie quotes. My shop has a poker theme.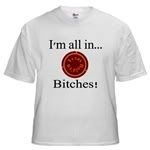 My best seller.



Also - know your limitations. I'm no artist, but I am creative. Most of my designs consist of text with minimal graphics. Some people have huge online shops with hundreds/thousands of products. There are people making a living just through CafePress. Building a large shop takes some work and effort - but there really is no limitation to your earnings on CafePress if you do it right.

Labels: cafepress, making money online
Subscribe to $100 in 100
posted by HarpersDad @ 6:30 PM


Hits4Pay - How to Turn $0.02 into $50
The first thing I did when I started this project was to sign up for these Pay To Read Sites. They take hardly any effort at all and you can start earning money immediately. What these sites, like Hits4Pay do, is pay you anywhere from 1 cent to 10 cents to look at ads sent to you through your email. You sign up, they send you some ads, you look at them and your account is credited. Oh yeah, and don't forget that a lot of these sites pay a sign up bonus - for example Hits4Pay gives a $10 bonus for signing up.

Now I know, a penny or two, isn't much. But another way to make money on these sites is by referring other people. So let's say I refer you to Hits4Pay and you sign up and begin looking at emails, I get paid for all of the ads that you look at as well as the ones I look at. Not only that, but anybody that you refer, I get paid for them as well. So you're looking at 2 levels of affiliate earning for Hits4Pay. Not all sites pay 2 levels, most only pay 1.



I think the real key to earning money on these sites is to sign up for more than one and get your referrals to sign up for multiple sites. I spend about 5 - 10 minutes a day on a site like Hits4Pay. And the great thing is, I usually open it up in one window and look at ads while I'm doing something else in another window. I just check in about every 30 seconds or so I can move onto the next ad.

2 weeks into this project I have about 20 referrals, mostly from a simple banner I placed on a blog. Hits4Pay sends me anywhere from 5 to 8 emails everyday - which equals about 15 cents a day for my viewing ads. But I also make another 80 cents or so from my referrals. So all in all, I'm making a dollar a day on Hits4Pay. Not much, but remember, I'm putting in about 5 minutes of work everyday looking at emails. And think about what will happen as my referral base grows.

Now, combine that with other sites - like DealNCash (same owners as Hits4Pay) - and it'll start adding up. There are a ton of these sites out there and I'll post them here as I try them out. My goal is to make a few bucks here, and a few bucks there and let them all add up to a larger payday. For now - start with these and lets start getting some checks!

Oh yeah - a quick hint: when you sign up these sites give you a list of categories of ads you can view. You have to choose 10 categories but can go up to 25. Sign up for 25 and make sure to sign up for the "online business" categories as these are the ones for which you will receive the most emails.




Another site that pays for views is Adbux.org. They have a great example on their page that explains just how you'll make money on their site at 1 cent an ad view.

You click 10 ads per day = $0.10!
10 referrals click 10 ads per day = $1.00!
Your weekly earnings = $7.70!
Your monthly earnings = $30.80!

The above example is based only on 10 referrals and 10 daily clicks. Some days you will have more clicks available, some days you will have less. What if you had more referrals? What if there were more ads available?

Now 30 bucks isn't much, but for 5 minutes a day?

Also, if I have 4 sites each earning me 30 - 50 bucks, then by the end of the month I've paid my cable/internet bill, cell phone bill...you get the point.




The last of my first four: ClixSense. Pretty much the same as all of the previous sites - like I said, they might not pay huge individually, but put them all together and you're checks will get fatter!


Labels: adbux, clixsense, dealsncash, hits4pay, making money online, pay to read
Subscribe to $100 in 100
posted by HarpersDad @ 11:09 AM


Wednesday, June 27, 2007
Intro to 100 in 100
Hi. Thanks for stopping by.

I'm a new dad, and it scares the hell out of me. I've lived my life in a way where I've always had money, but no real savings or insurance. I'm looking to create something a little more secure for my son.

So my plan is to use my talents and creativity to get motivated and create multiple streams of income from various web projects. I'd like to be able to spend a few hours a day on the computer and generate a little income to pay some bills and create a savings for my son.

My goal is to have turned my daily online earnings average to $100 a day in one hundred days.

As I write this I've already spent 2 weeks on this and this blog was the next logical step. In my next posts I'm going to be going over the things that I've done so far in this project. I plan to keep a daily log of my activities and projects so that anybody else interested can begin something for themselves.

Labels: 100 in 100, making money online
Subscribe to $100 in 100
posted by HarpersDad @ 8:11 PM


About Me

Name: HarpersDad
Home: Las Vegas, NV
About Me: I am a new dad (well, Harper is a year old) and I'm already worried about his college education. Mostly because I'm still paying mine off. My plan is simple - create multiple streams of online income so that the overall amount of all of them comes out to 100 dollars a day. So here it is: each step along the way about how to make $100 a day in 100 days...
View blog top tags
Previous Posts
Archives
Recent Readers